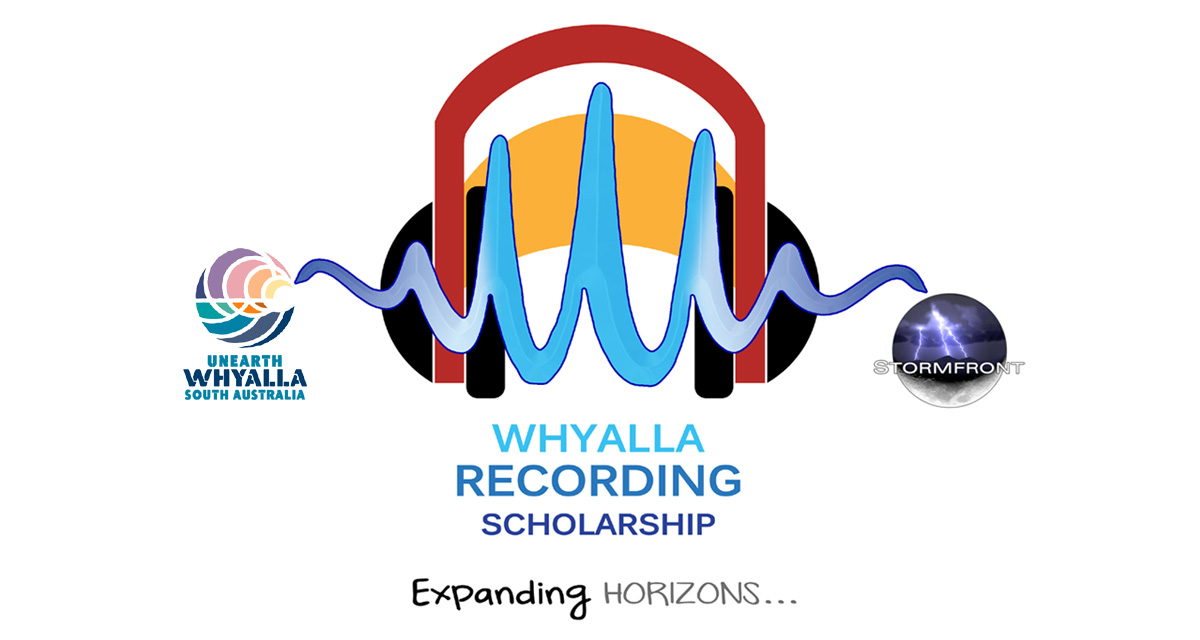 2017 WINNER

The Winner of the Inaugural 2017 WHYALLA RECORDING SCHOLARSHIP
was 17 year old Whyalla singer/songwriter BREEZE MILLARD.

During her year-long reign Breeze accomplished an astonishing amount
with her Winner's Single "I Have My Own Life"
selling strongly on iTunes, reaching Number 8 on the
Australian AMRAP National Radio Chart, and her impressive
Music Video attracting over 9,300 views on YouTube.
Check out "I HAVE MY OWN LIFE" here!
Check out Breeze's Winners Website here!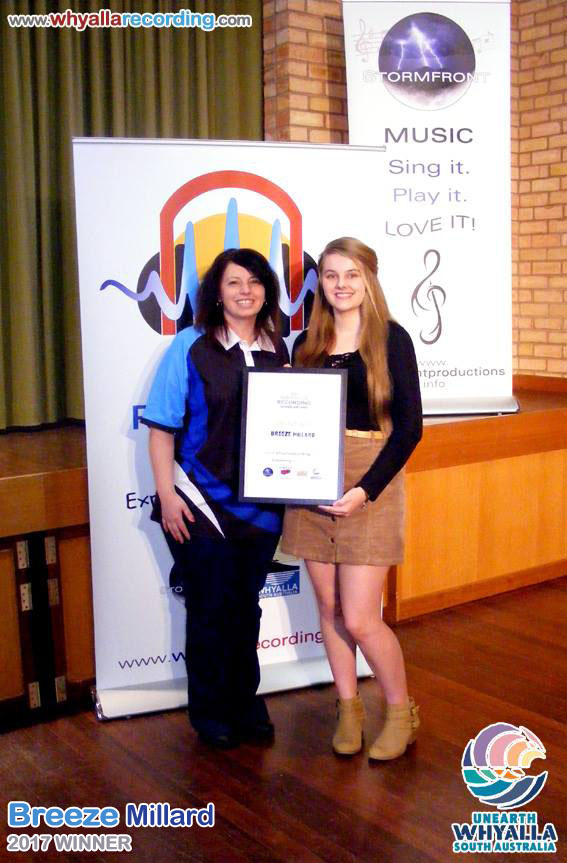 Breeze Millard and Stormfront Productions' Alison Hams
at the Winner's Presentation
Judging the live auditions in late 2016 were Whyalla City Council's Youth Officer Gail Rostig,
Whyalla-based musician and sound-engineer Gavin Chandler as well as
Alison Hams & Mark Tempany from Stormfront Productions - with video judging in Adelaide
by Anthony & Tracy Stewart from Red Brick Music and award-winning group The Sherrahs.

Breeze's tenure as the WRS winner saw her not only working with international connections in the studio
and completing many premier live performances - but also fully utilising her 24-hours & 7-days-a-week mentorship
with Stormfront Productions to promote her Single, her Video and her career.

"I was so excited to get into the studio and see my own song come to life" said Breeze.

"The Whyalla Recording Scholarship is such an amazing initiative and I can't believe what I've achieved in 12 months.
I'm now moving forward with my artistic career armed with all I've learned, and an even greater passion to succeed!".
CHECK OUT just some of BREEZE's 2017 WRS highlights below!
Louis Mayfield LIVE from Winners Announcement
Whyalla News (SA) TWEET 23rd November 2016
Whyalla News (SA) Article 24th November 2016
Southern Cross Television (SA) News Report 24th November 2016
Whyalla's After Pageant Fair (SA) Whyalla News Photo 1st December 2016
Whyalla LIONS "Carols In The Park" (SA) 11th December 2016
Music Industry News Network (USA) Article 8th January 2017
Music SA (SA) Artist Listing 18th January 2017
Australia Day, Whyalla (SA) 26th January 2017
Exposed Vocals (USA) Interview 4th February 2017
Music Matters (VIC) Interview 5th March 2017
Whyalla News (SA) Article 16th March 2017
Radio 2NUR FM (NSW) Pre-release Airplay 19th March 2017
Radio 2CHR FM (NSW) Pre-release Airplay 20th March 2017
Radio 4RFM (QLD) Pre-release Airplay 23rd March 2017
AMRAP (National) Community Radio Catalogue 26th March 2017
The RAVEN Project (QLD) Article 27th March 2017
Southern Cross Television (SA) News Bulletin 29th March 2017
Artist Rack (UK) Article 29th March 2017
ABC Radio 639 AM (SA) Interview & Airplay 30th March 2017
98five SONSHINE FM (WA) Interview & Airplay 2nd April 2017
96.5 INNER FM (VIC) Airplay 3rd April 2017
Whyalla News (SA) Article 4th April 2017
AMRAP (AUS) Radio Airplay Chart 10th April 2017
The Music Network (AUS) Radio Airplay Wrap-up 11th April 2017
AMRAP Radio Program (AUS) 15th April 2017
uneARTh The Library Whyalla (SA) CD LAUNCH 16th April 2017
#MONTEFAMOUS Radio Program (NSW) Interview & Airplay 17th April 2017
AMRAP (AUS) Radio Airplay Chart 18th April 2017
Whyalla News (SA) Article 19th April 2017
ANZAC Eve Vigil Whyalla (SA) Radio mention 20th April 2017
HOMEBREWED on WOW FM 100.5 Adelaide (SA) Radio Airplay 23rd April 2017
C.Y.D Radio Phoenix, Arizona (USA) Radio Airplay 23rd April 2017
ANZAC Eve Vigil Whyalla (SA) PERFORMANCE 24th April 2017
AMRAP (AUS) Radio Airplay Chart 26th April 2017
The Music Network (AUS) Radio Airplay Wrap-up 26th April 2017
Channel 9 YOUNG ACHIEVER AWARDS Performance in Adelaide (SA) 28th April 2017
Music SA (SA) e-news & Facebook Feature 3rd May 2017
Music Industry News Network (USA) Article 3rd June 2017
"I HAVE MY OWN LIFE" Official Music Video RELEASED 3rd June 2017
Artist Rack (UK) Featured Video 5th June 2017
Radio 920 ONE (New York) Radio Airplay 9th June 2017
Down South Country Stereo (South Africa) Radio Airplay 11th June 2017
My Country Australia (AUS) TOP 40 Radio Show 16th June 2017
VALLEY FM 89.5 CANBERRA (ACT) Radio Interview 18th June 2017
MUSIC TALKS (AUS) Featured Artist 30th June 2017
WOMEN OF SUBSTANCE RADIO (USA) Featured Video 13th July 2017
Whyalla News (SA) Article 4th August 2017
Southern Cross Television (SA) News Bulletin 16th August 2017
Whyalla's 11th annual JAMM FOR GENES (SA) 17th August 2017
its POP music (USA) 21st September 2017
BELTER Radio (UK) Radio Interview 16th October 2017
SOUTH AUSTRALIAN NEWS (SA/Online) Feature Article 8th November 2017
INSIDE SOUTH AUSTRALIA (SA) Feature Article 8th November 2017
Southern Cross Television (SA) News Bulletin 7th December 2017
Whyalla LIONS GFG Alliance "Carols In The Park" (SA) 10th December 2017
Whyalla News (SA) Article 11th December 2017
Southern Cross Television (SA) News Bulletin 11th December 2017
Whyalla News (SA) Article 15th February 2018
Launch Party announcement in Whyalla News (SA) 8th April 2019
WRS Launch Party in Whyalla News (SA) 23rd April 2019
Breeze in Indie Star Radio Top 5 (USA) 5th May 2019
BREEZE Millard on "7522 Indie Music Radio" (USA/Online) 11th July 2019
Breeze launches New Single "Holding On" (International) 14th December 2019
Breeze on Channel 44 Television (Adelaide, SA) 13th February 2020
"Holding On" Music Video Launches! (International) 29th March 2020