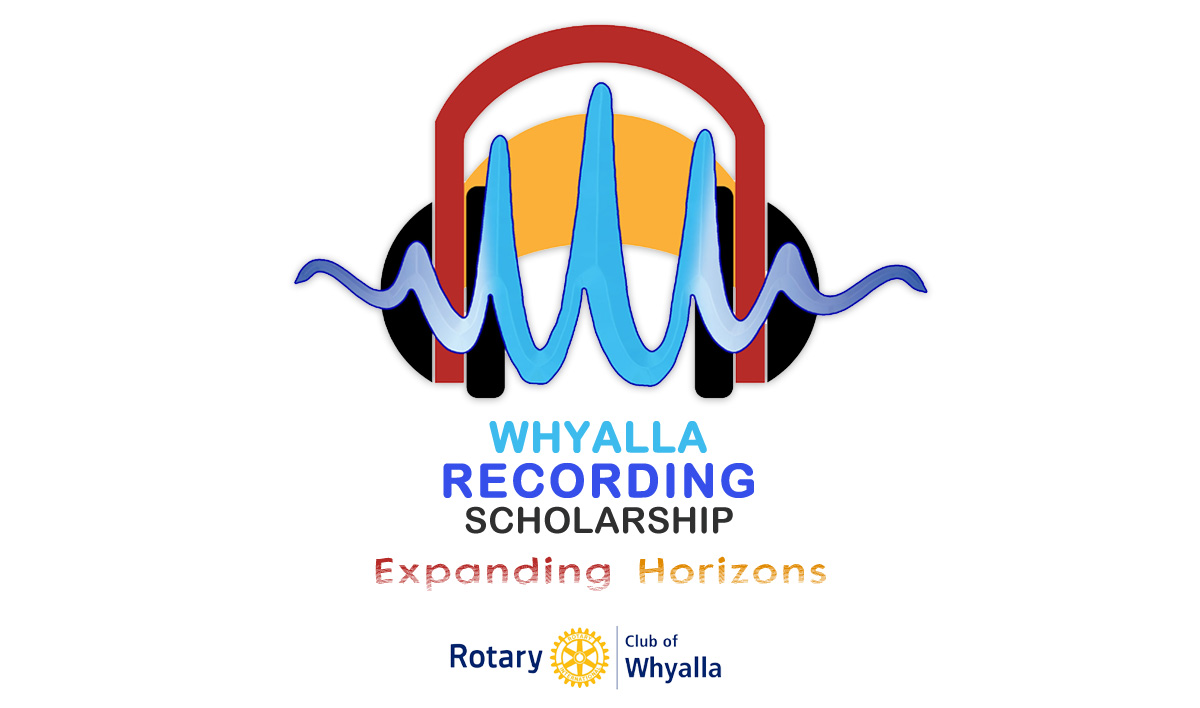 Our 2018 so far.....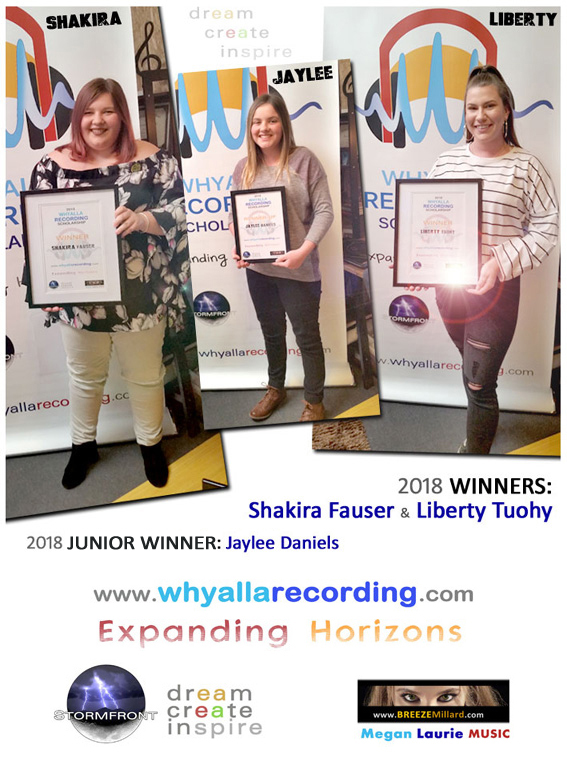 The 2018 WHYALLA RECORDING SCHOLARSHIP
has announced not one but THREE Winners!

This year for the first time Entries were open to Original musicians
aged 12 to 21 from Regions stretching from Tumby Bay to Mount Remarkable.

Candidates submitted their music online, with Finalists
then chosen to be Auditioned and interviewed in Whyalla.

Judges for WRS 2018 were Mark Tempany & Alison Hams from Stormfront Productions,
acclaimed singer songwriter Megan Laurie and last year's WRS winner BREEZE Millard.

"The aim of WRS is to unearth the best young Original music talent in our Region, and then
tailor a prize to inspire & assist them to launch their music professionally to the world" Mr Tempany said.

"As far as we are aware there is nothing like WRS anywhere in Australia (or maybe the world)
and the fact we are entirely independent & able to operate totally "in-house" is exceptional" said Ms Hams.
The 2018 Whyalla Recording Scholarship WINNERS are:
17 y.o.
Liberty Tuohy
(from Port Neill)
and...
19 y.o.
Shakira Fauser
(from Whyalla/Port Lincoln)
The 2018 Whyalla Recording Scholarship JUNIOR WINNER is:
15 y.o.
Jaylee Daniels
(from Whyalla)
Over the ensuing months Shakira, Liberty & Jaylee will work with Stormfront to
record & release their Original Debut Singles and Music Videos supported by
12 months Digital Distribution & professional industry support
to launch their music to the world.
The Whyalla Recording Scholarship is an entirely philanthropic initiative
entirely sponsored by Whyalla's STORMFRONT PRODUCTIONS.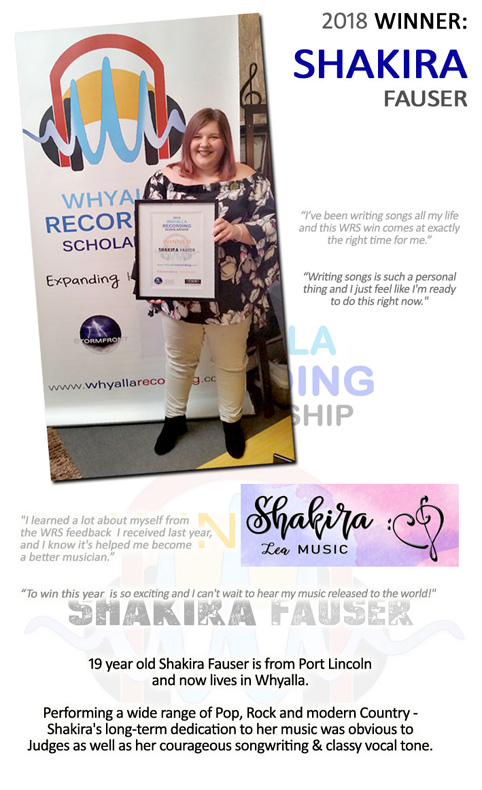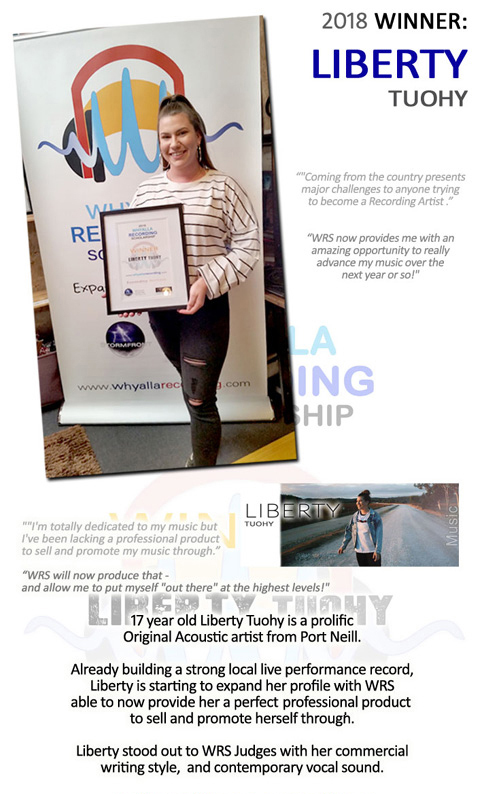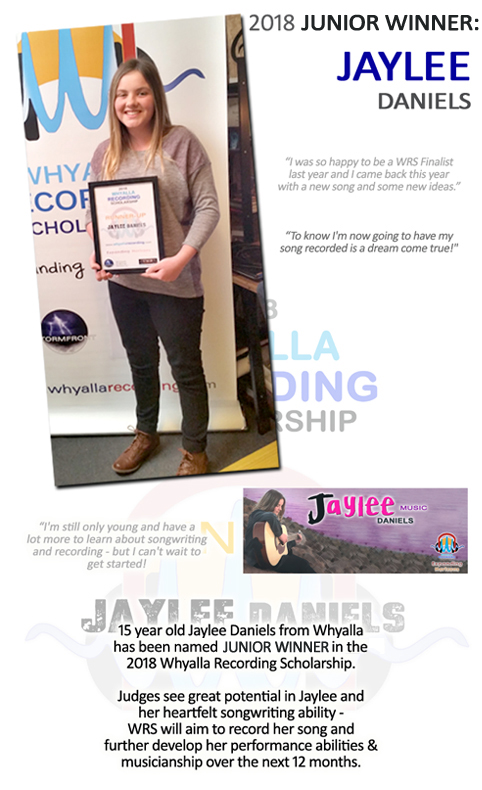 The 2018 Whyalla Recording Scholarship was OPEN to
young ORIGINAL musicians aged 12 to 21
with Entries closing on 29th June 2018!
CHECK OUT our ENTRY AREAS MAP
for more information!
You can view the
2018 ENTRY FORM here!
Each Entrant could submit their audio/video recording by:
* WeTransfer.com (to "info@whyallarecording.com") or...
* Emailing their audio/video file(s) to info@whyallarecording.com -
or emailing us links to where we could see and/or hear their music online or...
* Posting on CD, DVD or USB to...
WRS
PO Box 2313
Whyalla Norrie
5608 SA
CHECK OUT the latest on WRS 2018 below!
Official Promotional Video
23rd April 2018


Southern Cross Television News (SA) Report
23rd April 2018


Whyalla News (SA) Article
27th April (Online) & 3rd May 2018 (Print Edition)


Quorn Mercury Coverage (SA)
May 2018


RDAWEP Coverage (SA)
2nd May 2018


ABC Regional Radio (SA) Interview
3rd May 2018


Music SA Post (SA)
14th May 2018


The Music Network (Australia/Online)
30th May 2018


Southern Cross Television CASH CLASSIFIEDS (SA)
April-June 2018


Music Network Team-Up Post
(Online Music Industry Network)
23rd June 2018

Whyalla News (SA) Winners Announcement
17th September 2018 (Online Edition)
18th September 2018 (Print Edition)


Fleurieu Folk Festival (SA) Liberty's Announcement
September 2018


Southern Cross Television News (SA) Winners Announcement
18th September 2018


Eyre Peninsula Tribune (SA) Liberty's Winners Announcement
1st October 2018 (Online Edition)
4th October 2018 (Print Edition)


Port Lincoln Times (SA) Liberty's Winners Announcement
1st October 2018 (Online Edition)
4th October 2018 (Print Edition)


Shakira at JAMM FOR GENES (CMRI Australia)
5th October 2018


Shakira Mi2N Music Network News (Online/USA)
6th October 2018


Shakira Listening Edge Records Interview (Online/Canada)
7th October 2018


Liberty Mi2N Music Network News (Online/USA)
8th October 2018


Liberty Listening Edge Records Interview (Online/Canada)
11th October 2018


Independent Music and Arts Inc. Winner's Announcement (Online/USA)
16th October 2018


Music SA Facebook Post (Online/SA)
30th October 2018


Whyalla News (SA) McHappy Day Article
22nd November 2018


Whyalla City Council Pre-Launch Post (SA)
22nd February 2019


WRS Pre-Launch Debut Airplays
"Country Brekky with Tammy Methofer"
Radio Adelaide (SA)
23rd February 2019


"My Country Australia" airplays (Australia)
24th February 2019


Eyre Peninsula Tribune (SA) Liberty's Launch Announcement
24th February 2019 (Online Edition)


Shakira & Jaylee Hit iTunes Australia TOP 30!
24th February 2019


Shakira TOP 20 & Jaylee TOP 10 on iTunes!
24th February 2019


Whyalla News WRS online Launch (SA/Online)
25th February 2019


OZ Country Request Chart (Australia/Online)
26th February 2019


OZ Country TOP 10 (Australia/Online)
26th February 2019


Shakira Named OZ Country "Song Of The Week" (Australia/Online)
26th February 2019


ABC South Australia Regional Radio
WRS Winners Feature Story (South Australia & Broken Hill)
26th February 2019


"Country Thunder" Radio Pilot (Australia/Online)
WRS Feature at 22 minutes: 43 seconds
27th February 2019


Shakira Feature at Port Lincoln High School (SA/Online)
28th February 2019


Jaylee Hits #1 on OZ Country (Australia/Online)
28th February 2019


WRS Launch in "Whyalla News" & "Eyre Peninsula Tribune" (SA)
28th February 2019


Jaylee mi2N Chart Success Feature (USA/Online)
28th February 2019


WRS Airplay on Loz Radio (USA/Online)
28th February 2019


WRS with Graham Barnes on "Country Belles" - Belter Radio (UK)
3rd March 2019


Shakira Hits #1 on OZ Country (Australia/Online)
3rd March 2019


Liberty Tuohy with Liam Clarke on "First Break" - Touch FM (UK)
4th March 2019


Jaylee Hits #7 on AMRAP Chart! (Australia)
4th March 2019


WRS Girls Charting 1,2 and 5! (Australia/Online)
4th March 2019


Magic 89.9FM & 5CC News Feature (South Australia/Online)
5th March 2019


Shakira & Liberty in Port Lincoln Times (South Australia/Online)
6th March 2019


Shakira Lea Feature Interview
"Country Brekky with Tammy Methofer"
Radio Adelaide (SA)
9th March 2019


Liberty on New Grooves on 96.5 Inner FM (Victoria)
11th March 2019


WRS Success featured by Whyalla City Council (South Australia/Online)
12th March 2019


Magic 105.9FM & 5AU News Feature (South Australia/Online)
13th March 2019


Rawk Dawg WRS Feature on LOZ Radio (USA/Online)
21st March 2019


Liberty Tuohy Feature Interview
"Country Brekky with Tammy Methofer"
Radio Adelaide (SA)
23rd March 2019


Liberty on Radio Wigwam (UK/Online)
24th March 2019


Liberty Hits Triple J Unearthed TOP 10! (Australia/Online)
25th March 2019


Liberty Hits NUMBER 4 on Triple J Unearthed Indie Chart! (Australia/Online)
1st April 2019


Liberty Hits NUMBER 6 on Triple J Unearthed Overall Chart! (Australia/Online)
1st April 2019


Jaylee Feature on Teen Talks (Australia/Online)
3rd April 2019


WRS Feature on 5PBA FM (South Australia/Online)
3rd April 2019


Jaylee Feature on Radio Wigwam (UK/Online)
4th April 2019


Jaylee Daniels Feature Interview
"Country Brekky with Tammy Methofer"
Radio Adelaide (SA)
6th April 2019


WRS LAUNCH PARTY Article, Whyalla News (Australia/Online)
8th April 2019


Shakira Feature on Teen Talks (Australia/Online)
10th April 2019


Magic FM Launch Party story (South Australia/Online)
14th April 2019


Mi2N Launch Party story (Online/USA)
15th April 2019


Launch Party in Adelaide Review (South Australia/Online)
16th April 2019


Launch Party in The Music (South Australia/Online)
16th April 2019


WRS Hits Tamworth! (Australia)
17th April 2019


WRS Launch Party on Brand SA (South Australia/Online)
17th April 2019


Shakira NUMBER 1 on Country Thunder! (Australia/Online)
19th April 2019


WRS Launch Party!
22nd April 2019


Launch Party in Whyalla News (South Australia/Online)
23rd April 2019


Launch Party on Spencer Gulf 7 Nightly News (South Australia/Online)
23rd April 2019


Liberty Top 21 "Indie Star Nation" (USA/Online)
28th April 2019


Shakira Lea Radio Interview Lake Macquarie FM (Central Coast NSW)
8th May 2019


Liberty Tuohy Radio Interview and Live Performance ABC Eyre Peninsula (SA)
17th May 2019


Liberty Tuohy Radio Interview Lake Macquarie FM (Central Coast NSW)
29th May 2019


Jaylee Radio Interview Lake Macquarie FM (Central Coast NSW)
5th June 2019


WRS at Rotary Changeover Dinner (Whyalla, SA)
15th June 2019


WRS Rotary Sponsorship featured by Whyalla City Council (South Australia/Online)
17th June 2019


Rotary Donation in Whyalla News (Online/South Australia)
19th June 2019


Whyalla Recording Scholarship on "7522 Indie Music Radio" (USA/Online)
11th July 2019


Shakira Lea on "7522 Indie Music Radio" (USA/Online)
11th July 2019


Jaylee Daniels on "7522 Indie Music Radio" (USA/Online)
11th July 2019


BREEZE Millard on "7522 Indie Music Radio" (USA/Online)
11th July 2019


Liberty Tuohy on "7522 Indie Music Radio" (USA/Online)
11th July 2019


Shakira Lea Interview Belter Radio (UK)
14th July 2019


Shakira Lea on Capital Country Radio (Tamworth NSW)
26th July 2019


Jaylee Daniels on "Country Music Usa - France" (France)
29th July 2019


South Australian Music Awards "People's Choice Voting" now open (South Australia)
11th September 2019


Jaylee Daniels on "ABC Regional Radio" (South Australia)
17th September 2019


SAMS on Music SA (SA/Online)
3rd October 2019


Jaylee Daniels on "MAGIC FM 105.9" (South Australia)
11th October 2019


WRS "SAMS People's Choice Award" in Whyalla News (South Australia)
11th October 2019


Jaylee Daniels on "RADIO 5AU" (South Australia)
11th October 2019


Shakira Lea "I Miss You"
MUSIC VIDEO LAUNCH (YouTube/Worldwide)
20th October 2019


SAMS in City Mag (SA/Online)
22nd October 2019


Shakira Lea & WRS Feature in "27 Magazine" (Online)
24th October 2019


SAMS on Scenstr (SA/Online)
24th October 2019


Shakira Lea Music Video on Mi2N (USA/Online)
26th October 2019


Shakira Lea Music Video Story
on Spencer Gulf 7 Television News (South Australia/Online)
28th October 2019


Shakira Lea on T4C (New York, USA/Online)
28th October 2019


Shakira Lea Music Video on 5CC (South Australia/Online)
29th October 2019


Shakira Lea Music Video on Magic 89.9FM (South Australia/Online)
29th October 2019


Jaylee Daniels on Broken 8 Records (NSW/Online)
1st November 2019


Jaylee Daniels "Papa's Song"
MUSIC VIDEO LAUNCH (YouTube/Worldwide)
2nd November 2019


Jaylee Daniels Music Video on Mi2N (USA/Online)
2nd November 2019


WRS Music Videos in Whyalla News (SA/Online)
6th November 2019


Jaylee in 27 Magazine (Online)
7th November 2019


WRS Music Videos on Regional Development Australia RDAWEP (SA/Online)
8th November 2019


WRS Music Videos on Whyalla City Council (SA/Online)
12th November 2019


Shakira & Jaylee at LIONS "Carols In The Park" (Whyalla, SA)
15th December 2019


Jaylee Daniels Woolworths Announcement in Whyalla News (SA/Online)
10th January 2020


Jaylee Daniels Woolworths Announcement on Nightly News 7 Spencer Gulf (SA/Online)
10th January 2020


Jaylee Daniels in Woolworths Songwriting Festival GRAND FINAL (Sydney, NSW)
18th-21st February 2020


Jaylee Daniels Music Video on CH44 (Adelaide, SA)
20th February 2020


Shakira Lea Music Video on CH44 (Adelaide, SA)
27th February 2020


Jaylee Daniels Woolworths Songwriting Festival FEATURE VIDEO (International)
23rd March 2020


Jaylee Daniels Woolworths Songwriting Festival EVENT VIDEO (International)
23rd March 2020